The Abloomy Collaboration Platform (ACP) is a professional online virtual collaboration space dedicated for IT service. It comprises three main service modules: meeting room, whiteboard, and lab, which are used for 3 actions of each IT service process respectively -- discussion, planning, and execution. Traditionally these three actions either use different tools (e-mail, WebEx, etc.) or occur in different locations (office, laboratory, customer site, etc.), which makes it very difficult to collect data of the process. For each IT service process in ACP, a dedicated virtual collaboration space is created to ensure that the process's data is intact, which is the foundation for IT automation driven by big data and ML.
Besides collaboration related features, ACP also supports ITSM and RMM functions, the typical applications of ACP include: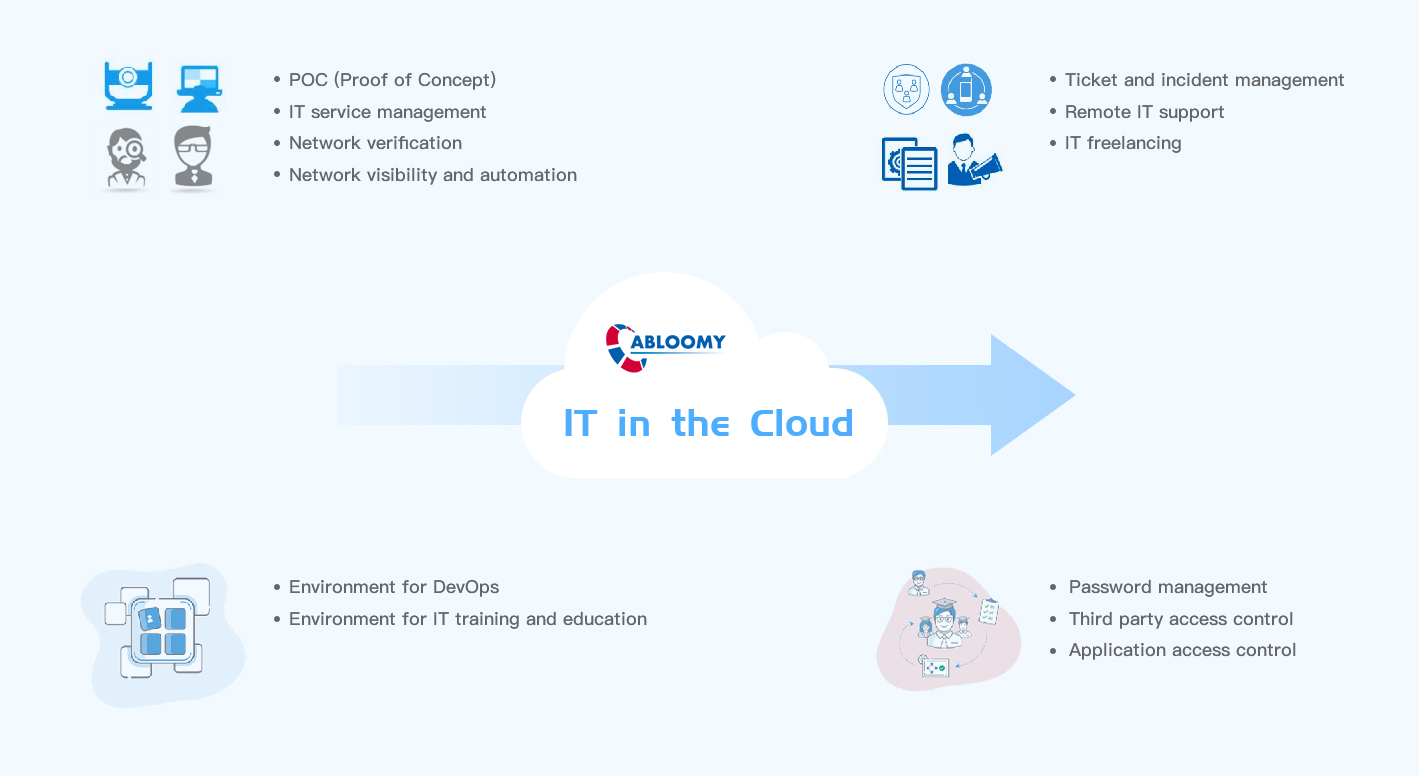 With ACP, Abloomy provides a one-stop solution for MSP:
Our 100% cloud-managed wired and wireless network solution meets SMB's simple local IT infrastructure requirements after critical business applications are moved to the clouds. It makes HaaS (hardware as a service) feasible for small MSPs since customers require all-inclusive cloud managed services.
Our cloud-delivered SD-WAN solution sets up application-performance-assured networks among the customer and the different clouds. This is the foundation for guaranteeing a good user experience with the cloud services.
ITSM and RMM functionalities can monitor and manage the whole IT infrastructure, covering on-premises hardware and networks, the performance of WAN connections between the customer and the clouds, and the status of VMs and applications in the clouds.
The dedicated IT collaboration platform makes it possible for MSPs to use a similar business model as Uber's, to reduce the cost for high-end IT talent.
Virtual Labs in the cloud provide MSPs with self-customized DevOps environments to develop necessary application integrations and ever-improving cloud environments, to meet customers' evolving service requirements.
Data analytics and machine learning frameworks help MSPs keep up with the trend of IT automation, raising the accuracy and efficiency of services while reducing Opex and human error.
Abloomy mobile apps enable MSPs to provide the customers with the greatest range of mobile access to their cloud account.